~ARTICLES FROM OLD CONFEDERATE VETERAN MAGAZINES & MORE~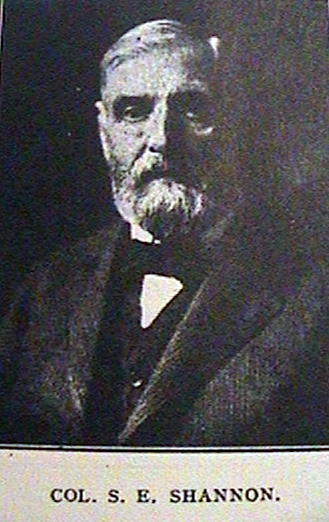 [Source: Confederate Veteran]
COL. S.E. SHANNON, born March 12, 1838, died Sept. 7, 1921, at his home in Williamson County, Tenn.
In his early manhood he was a beloved and successful teacher. When the tocsin of war sounded, calling for the best and bravest, S.E. SHANNON answered the call and enlisted in Co. B, 24th Tennessee Infantry. When T.H. PEEBLES, captain of the company, was elected colonel of the regiment, S.E. SHANNON was made captain. At the battle of Shiloh, April 6 and 7, 1862, he handled his company with such dautless courage and distinguished skill as to receive the praise of his superior officers and the love and devotion of his men. At the reorganization at Corinth, he was made major of the regiment, and was with it at the battle of Perryville, Ky. At the battle of Stones River, Jan. 3, 1863, Colonel BRATTON was killed and SHANNON was made lieutenant colonel.
He was in the battle of Chickamauga, Missionary Ridge and all the engagements from Dalton to Atlanta. On July 22, on the right of Atlanta, COLONEL WILSON was severely wounded and COLONEL SHANNON took command of the regiment. At Jonesboro, in making a charge, the color bearer was shot down. Col. SHANNON seized the flag and led the regiment through the fight. When HOOD came into Tennessee, Col. SHANNON led his regiment in that fearful charge at Franklin and was shot down within ten feet of the enemy's works. He was supposed to be mortally wounded, but survived to the good old age of 83. As a cool, gallant, and fearless soldier he may have had equals, but no superior.
After the war he married MISS ELIZABETH H. ROBERTS, a daughter of one of the most prominent and respected farmers of Williamson County. As a citizen, he was honored and respected by everyone who knew him.
We deplore his loss, for his place can never be filled.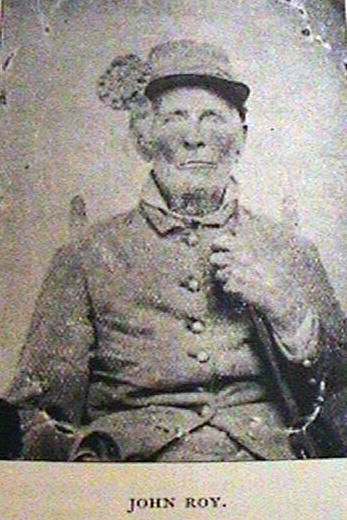 OLDEST AND YOUNGEST SOLDIERS.
John Roy was born in Roanoke County, Va., March 2, 1785. He had three uncles in the Continental army, who fought under Greene and Morgan at King's Mountain and at Guilford Court House; Va. He came fom Virginia to Tennessee in 1809, and settled near Nashville, He enlisted under "Old Hickory" for the Creek war. He had seven teeth shot out at Talladega, and was within a few feet of Maj. Montgomery when he was killed in the battle of the Horseshoe.
Again, when Jackson called for troops to go to New Orleans, Roy's desire to go was so great that he gave a horse and one hundred Spanish silver dollars for the place of a man who drew the lucky number to go. In the battle on January 8, 1815, he was near a British officer, Maj. Renne; who exhibited great courage and was killed in that battle.
After that war he married, and settled near Brentwood, Tenn., and reared a family of three daughters and two sons. Three grandsons took part in the civil war; J. G. and W. H. Moody, of Comany D, First Tennessee Infantry, and John Roy (born May 5, 1848), who enlisted in Company L, First Tennessee Infantry, in November 1861, and was killed October 8, 1862 at the battle of Perryville. This picture was taken at nine years of age.
John Roy, Sr., enlisted in Company B, Twenty-fourth Tennessee Infantry, at the age of seventy-six years and four months; but his service was brief, because of afflictions. He died November 6, 1868.
Confederate Veteran V, p. 407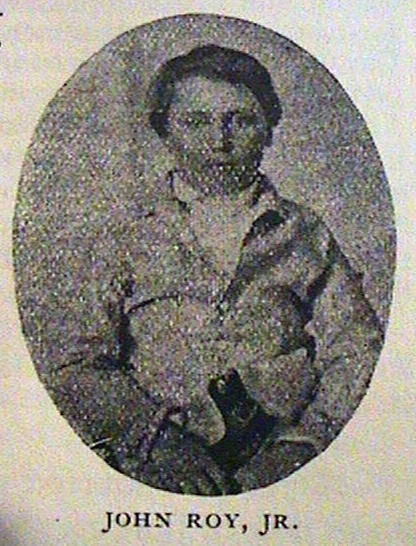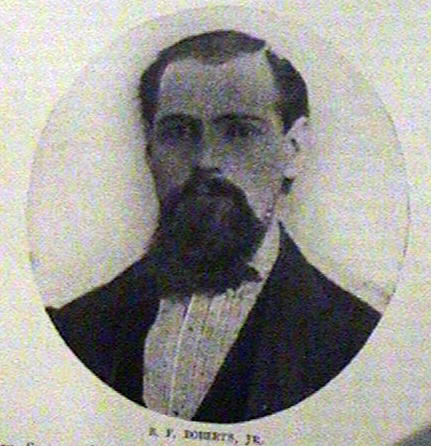 B. F. Roberts, Jr.
B. F. Roberts, Jr., was born January 8, 1844, in Williamson County, Tenn.; and died November 20, 1912, at his home in Franklin.
At the age of seventeen he enlisted in Company B, 24th Tennessee Infantry, which served much in Strahl's Brigade, Cheatham's Division, Army of Tennessee, He participated with his regiment in the battle Murfressboro and in all of the war. Frequently during the Atlanta campaign he volunteered for scout service within the enemy's lines, performing his duty with intellignece, fidelity, and promptness, He was wounded at Missionary Ridge and again in an effort to scale the Federal main line of warks at Franklin. He was paroled during the spring of 1865. The testimony by an officer of his regiment is that he never shirked a duty nor failed a comrade.
He was a charter member of McEwen Bivoac, at one time its President, and continued in good standing unitl his death. He was ever dilignet to entertain of serve a comrade. In civil life he took an active interest in the affairs of his country, State, and communtiy, He was for more than twenty years a member of the County Court and at one period its presiding officer. As a soldier and citizen loyalty to principle, devation to high ideals, and uncompromising opposition to wrong were his commanding characteritics.
Confederate Veteran XXI, p.88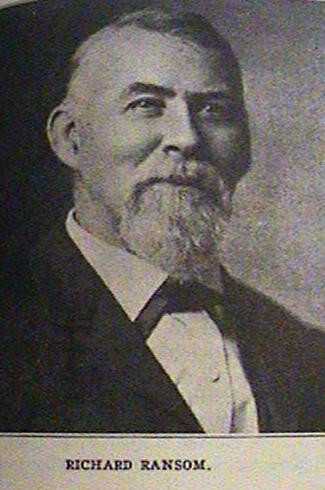 Judge Richard Ransom
Capt. Richard Beard, of Murfreesboro, pays tribute: "Comrade Richard Ransom was born at Versailles, Ruterford County, Tenn., July 3, 1835; and died at his home in Murfreesboro February 4, 1903, in his sixty-eighth year. His entire life was spent in this county, except while away at school, and the four years of his young manhood in the Confederate army.
"In the spring, or early summer , of 1861 he enlisted in the Twenty-Fourth Tennessee Infantry as a private, but was afterwards promoted to a lietuenancy, which rank he held at the close of his service in the army. He was a faithful and gallant soldier, and came home with a parole in his pocket. His consciousness of having done his duty well was a n inspiration from the day of his return to the day of his death. And this , my comrades, should an inspriation to us all, as no prouder heritage can we leave to our children than the memory of having done our duty faithfully during those stormy years of that great war.
On returning home, Comrade Ransom took up the business of farming, and was successful. He was three times elected sheriff of the county, and as such served with credit to himslf ad the county. For years he was a member of the County court and for seven successive terms was elected and served at its chairman. He was one of the charter members of J. B. Palmer Bivouac, and was for one or more terms its president, and at one time was vice president of the State Association.
Never was a call made upon the Bivouac taht he was not ready to shoulder his part of the burden. He was an upright man, good and true, with a great deal more of the sunshine of life in his nature than is ordinarily found in men. He was faithful to every trust that was imposed upon him."
Confederate Veteran XI p.177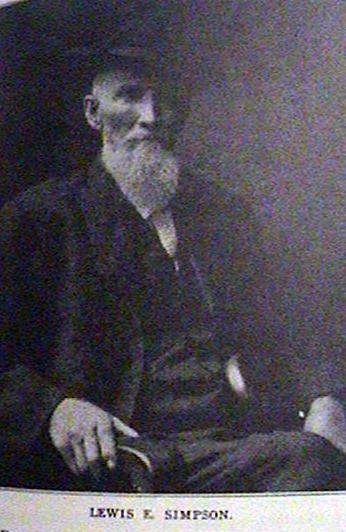 ACTIVE SERVICE AND PRISON
Lewis E. Simpson, of Alexandria, Tenn., who has been an interested patron of the veteran from its beginnings, entered the Confederate service in his nineteenth year, in February, 1861, becoming a member of Company, F, 24th Tennessee Infantry. This regiment was formed at Murfreesboro and went from that place to Bowling Green, Ky., then to Corinth, Miss, in 1862. After taking part in the battle of Shiloh, it went back to Corinth and was in the battle there, going thence to Tupelo for a while and then on raid with General Bragg by Atlanta, Birmingham, and Nashville, into Kentucky, taking part in the battle of Perryville. It was then sent to Camp Dick Robinson and from there, by way of Cumberland Gap, back to Tennessee and was in the fight at Murfreesboro. Going next to Chattamooga, the regiment took part in the battle of Chickamauga and was then at Missionary Ridge, where Comrade Simpson was taken prisoner in front of Bragg's headquarters. He was sent to Nashville and placed in the Zollicoffer Barracks; from there he was sent to Rock Island, where he stayed for fiften months. During the time he was so afflicted with rheumatism that his release was at last obtained by special petition to President Lincoln, and he returned home in March, 1865. He was slightly wounded by a shell during his service.
Confederate Veteran XXIV p.185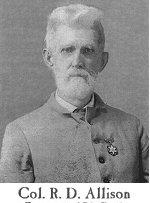 Allison's Tennessee Cavalry Squadron
http://www.tennessee-scv.org/Camp1513/allison.htm
Allison's Tennessee Cavalry Squadron was raised March 1862, at Alexandria, TN., by Col. R. D. Allison, John S. Reece, and Robert V. Wright. Col. Allison and John Reece had previously served with the 24th Tennessee Infantry but had been discharged due to their age.
. . . The three companies that made up Allison's were mostly men from DeKalb Co. TN with a few from the surrounding counties. It was one of the few DeKalb units that actually fought in there home area. During the first half of 1863 it was involved in several small battles and skirmishes in and around Alexandria and Liberty.

**********************************************************

HARDISON, David Mark 2/18/1831-4/23/1931 s/o Wiliam Joshua Hardison & Martha G Patsy Long - Sgt then Lt, Co B 24th TN Inf - "Duck River Riflemen". Shot in right arm at Shiloh. Captured 6/20/1864 till end of war. [Mil]
http://www.bjhughes.org/warcivil.html
Hardison Family Military Info
http://www.bjhughes.org/hardisonmil.html
" . . . I will give the names of my best soldier friends who stood by me in the struggle: Capt S L Hardison, Eff Hardison, Orin Cheek, E Journey, John Barham, Same Clymore, J H Clymore, Bill Lee. All soldiers were considered as friends but I believe those mentioned would have divided the last crumb with me, even died for me. I lost some of my best friends in battle: W T Lee, Dick Mills, Van Johnson, James Kinnard, H Cranford. All of those mentioned on this page were my mess mates from time to time. 8 in a mess, as one was lost we would add another." (Historic Maury, Vol 13, 1977 p 167 - Hardison & Allied Families by Fred L Hawkins & Dorothy Westmoreland Gilliam, Columbia, TN 1922 p 250)
"General: My scouts on the Shelbyville road have reported that they ran on to a small squad of the enemy, supposed to be Sam Hardison's guerrilla band. . . The country is full of guerrillas. . . Very Respectfully, Horace Capron, Col . . . " (The War of the Rebellion, Official Records, Seires I, Vol 45, Part I p 1097 - Hardison & Allied Families by Fred L Hawkins & Dorothy Westmoreland Gilliam, Columbia, TN 1922 p250)
1st Sergt David M Hardison, shot at Shiloh, flesh of right arm; captured 6/20/1864; remained in prison till end of war; living on the county line of Marshall, 1 mile west of Berlin. Co G opened fight at Shiloh, about sunrise on Sunday morning. All casualties at the time except Dave Hardison later. Eight men died in line and sixteen wounded in first fire before the riflemen fired a shot. (Hitory of Maury Co, TN, Frank H Smith, 1969, pp 269, 273,274 - Hardison & Allied Families by Fred L Hawkins & Dorothy Westmoreland Gilliam, Columbia, TN 1922 p268)

[Source: Confederate Veteran]
TWENTY-FOURTH REGIMENT

J.H. CLARK, of Lubbock, Tex., would like to hear from any of the old comrades of the 24th regiment, Tennessee Volunteers, Co H. The colonel of this regiment was R.D. ALLISON. The captain of Co. H was C.W. BEAL and his first sergeant was H.C. CAMPBELL. Company H was afterwards consolidated and became Co. I. The second first sergeant was JOE HOLMES and J.H. CLARK was the third first sergeant. He enlisted at Nashville on July 22, 1861. [ written 1899 ]


TENNESSEE CONFEDERATE PHYSICIANS : PART 5 (RICE - YANDELL)
http://www.state.tn.us/sos/statelib/pubsvs/doctor5.htm
Wellborn, Wm. Thomas (AS) p. 269 ? 24th TN Regt.

Black Southerners In Gray, Index To Tennessee Confederate Pension Applications:
[2] William Easley/24th TN Infantry/#10/Hickman County.
http://www.37thtexas.org/html/HistRef4.html

The following White County soldiers responded to a questionnaire posed by the State of Tennessee after the War. The complete questionnaires can be found in the published source.
Source: Index to Questionnaires of Civil War Veterans
Manuscript Section Archives Division
Tennessee State Library and Archives
Nashville, TN 1962
Confederates
Johnson, J. O. - 24th TN Inf Co. A