The 24th Tennessee Regiment was organized at Camp Trousdale, near LaVergne, Tenn., in 1861. Don Allison was elected colonel, and Thomas H. Peebles, lieutenant colonel. The regiment had an organization of ten companies, with something like a thousand men. Without mentioning certain historical events- going into winter quarters at Bowling Green, Ky., the fall of Fort Donelson, and our hasty retreat to Corinth, Miss., to checkmate Grant's concentration of troops at Pittsburg Landing--I will pass on to what was one of the bloodiest battles of the war; known as the battle of Shiloh.
Sunday morning, April 6, 1862, found us in mortal combat with the blue. Colonel Allison being incapacitated, it devolved on the intrepid Peebles to lead the regiment to victory. With his horse shot from under him, a stubborn foe in the open-now with uplifted sword flashing in the sunlight of that beautiful Sunday morning- we still hear the stentorian voice rising above the din of battle: Forward! Forward! Forward, boys! Forward!" which gave inspiration that led to victory. That stentorian voice appealed to General Prentice; who after capture; asked: "who commanded that regiment with the big voice!"
Sunday evening, at the hour that General Johnston fell, the enemy had been driven from the field in wild disorder. If Beauregard had pressed the rout, he would have captured Grant's entire army.
At the organization of the regiment at Camp Trousdale, the ladies of Nashville presented the 24th with one of the most beautiful battle flags, which was soon to be a leading factor in a great battle. As the ordnance department had not provided a more suitable flag for service- a smaller flag that could be carried through brush without hindrance-our highly prized flag was destined to be a central figure in the victorious onslaught of the first day's battle.
The 7th opened up bright and cheery. The night had been followed by a heavy rainfull, which extinguished the many fires that caused much suffering to the wounded and dispelled the terrible stench incident to such a bloody battle. We engaged the enemy only to be forced back to Buells' fresh troops to a line parallel to the old Shiloh Church.
The two lines were in close proximity, and we fought in the open. Jack Reece, our gallant color bearer, unflinchingly stood with the colors unfurled to the morning breeze, which was a great inspiration at this tense moment. Under the folds of those colors, I was severely wounded, as well as the color bearer. Here the curtain falls, and I am next found at Corinth nursing a wound.
At first dress parade after the battle, the regiment unanimously presented the old bullet-scarred battle flag to Colonel Peebles, as a mark of high appreciation of his gallantry on the field of battle; and these colors are sacredly held by T. H. Peebles, Jr. who will take this loved relic to Dallas next May.
pg. 85-86

BATTLE-SCARRED FLAGS
In a communication to the March Veteran, Rev. D. H. Hogan, of Rosedale, Kans., says that the flag of the 24th Tennessee Regiment, C. S. A., used at the battle of Shiloh; will be brought to the Dallas reunion in May.
This suggests that to bring all the battle-scarred flags still in existence would make a interesting feature of the reunion.
Comrades, please bring as many as possible of these old flags to Dallas.
J. H. Faubion,
Com. Camp Bedford Forrest, No. 1609. U.C.V., Leander, Tex.
Confederate Veteran~XXXIII P. 169
CHAPLAINCY OF THE 24TH TENNESSEE REGIMENT.
Statement by Rev. H. D. Hogan, Rosedale, Kans.
On April 29, 1861, I celebrated my twenty-first birthday by casting my lot with the destiny of my State. Rev. J. W. Cullom, a traveling preacher of the Tennessee Conference and I, a local preacher, enlisted at the same time in Company B, 24th Tennessee Regiment. At the organization Rev. J. W. Cullom was elected chaplain of the regiment, which office he faithfully filled until his resignation, some two years later. After his resignation it devolved on me to look after the spiritual interest of the regiment. I was exempt from military service and could have returned home, but the "love of Christ constrained me" to remain with those with whom I had cast my lot.
A number of strange and sad coincidences followed me. Colonel Bratton, who fell mortally wounded at Murfreesboro and whom I assisted off the field of battle, implored me not to leave him. He died in peace; "he found the Christ," Assisted by several of my captors, we buried him with his head to the east against that old snarled maple at the south door of the old Methodist church. I was made prisoner and sent to Camp Morton. When released the following April I found my command south of Murfreesboro. I held a most wonderful meeting; scores of souls were brought to Christ. In speaking of this meeting Mrs. Snyder's "History of the Civil War" says: "Rev. H. D. Hogan, a private soldier, held a fine revival in his regiment, the 24th Tennessee."
The following April we commenced and held over a great revival till in May; scores were converted. Colonel Wilson in that charge of the enemy's works on the 22d of July right off Atlanta was wounded seriously. I saw him through a rain of shot and shell to a place of safely. In that fearful charge of the enemy's second line of works at Franklin on November 30, 1864, I assisted in removing them to the Carter house, where they received temporary emergency treatment.
At the Reunion in Nashville soon after the war I was elected Chaplain of the 24th Regiment. I have honored my appointment by looking after my charge by correspondence and otherwise.
Now, I modestly make the above statements in vindication of my right to the honors of the chaplaincy of the 24th Tennessee Regiment as a historical fact and append the following in corroboration:
"Bowie, Tex., July 18, 1919.
"This is to certify that the 24th Tennessee Regiment being without a chaplain after the resignation of Rev. J. W. Cullom, the Rev. H. D. Hogan; a private of Company B; was the only recognized chaplain till the close of the war; then having no legal successor to Rev. J. W. Cullom. He also carried me off the field of battle at Atlanta, Ga., on the 22d of July, 1864; hence it is due to him that I survive.
John A. Wilson,
Colonel 24th Tennessee Regiment."
"Touching the above statement of the chaplaincy of Rev. H. D. Hogan, of the 24th Tennessee Regiment, it is correct.
S. E. Shannon,
Lieutenant Colonel 24th Tennessee Regiment."

Confederate Veteran~XXVIII p. 278

COMRADES TRUE
Devoted friends are Col. John A. Wilson, now living at Bowie, Tex., and who commanded the 24th Tennessee Regiment, and Rev. Henry D. Hogan, of Rosedale Kans., who served with that regiment. Their pictures show them as they are today. Colonel Wilson in his eighty-eigth year. A sketch of him in the Veteran for December, 1924, stated that he was first captain of Company D, was promoted to major in July, 1862, and was made colonel of the regiment in January, 1863. This was just after the battle of Stone's River, where he was wounded.
Comrade Hogan enlisted in Company B, of the 24th Tennessee Regiment, on April 29, 1861, saying to the boys: "I am with you to stay" He served as a private for the first two years, drilling, on guard and picket duty, and also leading the religious services. He was first under fire at the battle Shiloh, April 7, 1862, also at Stones' River in December of that year, and after that battle he was detailed to remain and care for Colonel Bratton, who had been mortally wounded there. He was thus a prisoner and was sent to Camp Morton and exchanged the following April. He found his regiment at Dug Gap, Tenn., and then began his ministrations as the chaplain, which he accepted , thinking his influence would be stronger with the boys. At the battle Atlanta, on July 22, 1864, Colonel Wilson fell desperately wounded, and Chaplain Hogan helped him to a place of safety. "It is due to him that I survive today," wrote Colonel Wilson. He was also at the bloody battle of Franklin, where Lieutenant Colonel Shannon was wounded, and Comrade Hogan remained with him through that awful night of November 20, 1864, until he could be removed to the Carter house for treatment. His last battle was at Nashville, and, being familiar with that section, he helped Colonel Tillman, of Strahl's Brigade, and many comrades to escape by conducting them over the hills toward Brentwood-the only way to escape capture.
On Hood's retreat, Comrade Hogan was on the firing line with his old command to the Tennessee River, and when the army fell back to Tupelo, Miss., along in January, 1865, he asked for a transfer to Baxter's Battery, then stationed at Macon, Ga., stating that he was the only one of his original company left, and his youngest brother was a member of Baxter's Battery, and he wanted to be with him. So the transfer was granted, and with that command he served to the end, stacking his gun at Greensboro, N. C., on April 29, 1865, just four years to a day since he entered the army. He was the only one of his original company who surrendered there.
After the war, at the reorganization of the 24th Tennessee Regiment, Rev. H. D. Hogan was elected its chaplain. His later life was as a minister of the gospel, until his retirement some years ago.
Though these old friends are so widely separated, they keep in touch by correspondence. Colonel Wilson is the only surviving officer of the regiment.
Confederate Veteran~XXXIII p.365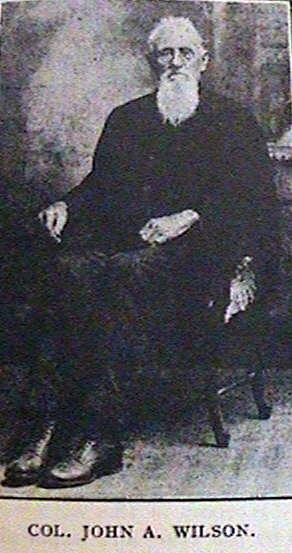 Courtesy Shelia Green / TN State Archives

LAST SURVIVING OFFICER.
The following comes from Rev. Henry D. Hogan, of Rosedale, Kans., as a tribute to an old comrade and friend, Col. J. A. Wilson, only surviving officer of the 24th Tennessee Regiment, who is now living at Bowie, Tex., in his eighty seventh year. Comrade Hogan says:
"As a member of the 24th Tennessee Regiment and chaplain of same for three years or more and one of the few members who remain to tell the story and one who was in camp and in battle often, I wish to pay a tribute of respect and to make honorable mention of my highly esteemed old friend, Col. John A. Wilson, who was captain of Company D, 24th Regiment, Tennessee Volunteers. He was promoted major of the regiment in July, 1862. After his return fro the hospital he was made colonel of the regiment, January, 1863.
"He succeeded the brave, intrepid Hugh L. W. Bratton, who fell mortally wounded at Stone's River, December 31, 1862. He was also severely wounded in that bloodiest battle of the war at Franklin, Tenn., between Hood and Thomas.
Colonel Wilson not only led his command at Chickamauga, Missionary Ridge, but also that long-drawn and continuous fighting with Sherman's hordes from near Dalton, Ga., to the right of Atlanta, Ga., July, 1864. When this hard fought battle was in full swing, Colonel Wilson was severely wounded within ten feet of me when he fell. He called to me and said: "Henry, get me away from here, or I will be killed." I pressed into service three men who were behind trees. I rolled him on a large blanket that I swiped from the Yanks at City Point, Va., April, 1863. (By the way, I was captured at Stone's River, and sent to Camp Morton, Ind.) Now with this hastily improvised stretcher, we bore him to a place of safety.
"I was appointed chaplain of the regiment by the Colonel; he forbade my bearing arms, which order I violated providentially in the fearful charge; when he fell I was at his side; the Colonel claims I saved his life.
"The most important factor in the Colonel's life was his Christlike demeanor, which was in evidence daily. He was loved by his men who confidingly followed him in battle."
Confederate Veteran~XXXII p. 452